Nursery set up
---
Jelly Babies (3 Months -Under 2 Years)
We stimulate the babies as much as possible throughout the day, using visual aids, musical toys, soft toys and rattles. The company of other children will also stimulate your child, aiding and supporting their rapid development.
We talk and sing to them, keep them clean at all times and involve them in the other activities going on.
We offer pre-visits to discuss the babies' needs and requirements to all new parents
We have baby diaries where the child carer will write down information such as how much milk they have had, what they have eaten, details of nappy changes and what activities they have had.
Jelly Tots (2- Under 3 Years)
Your child will make many new friends,
They will eat lunch together and enjoy time being in a group; singing, listening and learning basic colours, shapes, numbers and sounds.
They will take part in a variety of activities; such as art and craft, messy play , music making, story time, sand and water play, cooking, role play, and exploring outdoors.
When your child is ready for toilet training, they will be given every encouragement by our Nursery Professionals who will work with you to achieve this important Milestone.
Your child's achievements and the day's information is recorded for you in their Communication Book and available to take home at the end of their session.
Jelly Beans(Ages 3+)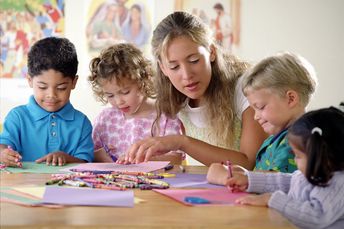 Your child will have opportunities to learn and develop their skills by using a large range of materials such as role play, Computers and Plants.
They will take part in art and craft activities,
Building with toys and exploring soft materials. They will also enjoy Music & Dance,
We develop their number skills, counting, matching and recognising numbers with a variety of games and activities.
Your child will soon develop a strong sense of achievement through learning and playing in a relaxed, rewarding, enabling environment of the highest quality.
This age group we gently introduce a little more structure into each session in preparation for BIG school, although the emphasis is still on learning through active play, exploration and creative thinking.
Smarties (After School /Holiday club )
Smarties is a before and after school club ideal for all you busy parents. Pick up and collection is available from St Likes and Mildean School.
We also provide holiday club.